Plasma Lift
Dr. Firas Hamdan introduced "Plasma Lift" with amazing visible results.
The Plasma Lift is a combination of two modalities:
1- PRP injections with fractional Needling
2- The Plasma Gel system
What is the PRP therapy?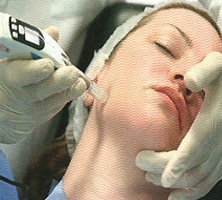 PRP stands for Platelet-Rich Plasma therapy and involves blood being taken from the patient's body (in the smae way as in a blood test) then put in a centrifuge that separates the blood cells from the serum and platelets which are then injected directly back into the superficial layer of the face in need of rejuvenation, using the Dermal FMTS: (Fractional Microneedling Therapy System) This popular treatment is often referred to as Dracula or Vampire Lift as it involves taking a blood sample!
Platelets release growth factors that help the body repair itself by stimulating cells to regenerate new tissue so as well as improving the skin tone. The treatment also promotes healthy skin growth and collagen production so skin appears plumper and more vibrant.
What is Plasma Gel?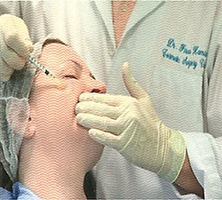 Plasma Gel System is a method of injecting autologous plasma filler and is a method for wrinkle treatments. The Plasma Gel is derived from the rest of the separated serum or PPP (Platelet Poor Plasma) which allows cross-linking.
Each session provides the equivalent of 6 to 8cc of plasma filler. Plasma Gel has the same color and form as autologous fat, but when injected, the softness is much better than autologous fat. Dr. Meyer Rogge in Germany presented the Plasma Gel idea in 2003, based on the Krajcik's thesis "Autologous material for soft tissue augmentation" introduced in 1999.
Is this "Plasma Lift" right for me?
Plasma lift is the right choice for anyone who prefers a more natural approche to anti-ageing treatment. This therapy is completely safe and natural treatment and is highly effective at improving the appearance of fine lines and wrinkles, sun damage and dull, worn-out looking skin. It can be used to rejuvenate the face, neck, decollete, backs of hands and other body areas as well as provide filler to the needed areas.
When can i expect to see result?
Expect the skin to be visibly smoother,firmer and revitalised within three weeks of treatment and improvements in skin tone and texture will continue in the following 3 months and top-up treatments will maintain the effects.
What about the recovery time?
Some minimal swelling and bruising may be experienced for 12-24 hours following treatment but very little down is required for this treatment as opposed to fat transfer, and because your own plasma is used there is minimal risk od side effects.
How often can i do "Plasma Lift"?
The Plasma Lift comprises of 1 to 2 sessions. It depends on the condition of the skin but usually 1 treatment is recommended for the Plasma Gel and PRP Needling session with a two week gap in case PRP skin needling treatment is to be repeated. The whole Plasma Lift can be repeated in 12 to 18 months.